The Design Build approach is JDL Warm Construction's recommended approach for any potential clients construction needs.  As an innovator of the Design Build approach, utilized by our firm since the 1930's, we are firm believers in its value adds to the client because of its team oriented nature.  This team oriented method allows for more precise pricing and enhanced ability to openly address any pre-construction issues that may exist resulting in overall lower costs.
The Design Build delivery systems advantages include:
Assist owner in creating a needs assessment for their new facility
Single point of project delivery and accountability
Enhanced schedule control and time management
Reduction in overall project costs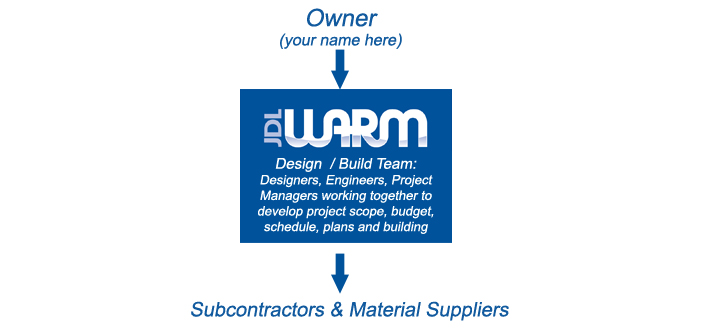 By making JDL Warm Construction responsible for the entire project, including design, it allows us to have greater control over schedule and costs and allows the client to focus on the project as a whole instead of coordination of the two teams (architect and contractor).  The quicker schedules are created by providing budgeting services during the design process.  This is key because the accelerated schedule cuts costs because of reduced time and allows the client to move into their new facility faster.  Costs are also reduced because of the upfront coordination between the design team and the construction team while they work together to create a project that works for your budget.
Because we have built a great number of buildings for our own real estate company, we understand the owners perspective during the construction process.