JDL Warm Construction understands the importance of Inclusion and Diversity. We are committed to providing opportunities for MBE/WBE/SBE/DBE firms. Not only are we committed to supporting inclusion on projects with 'inclusion requirements', we strive to be inclusive on all of our projects. We feel that quality firms are an asset on all projects, not just those with mandated inclusion requirements.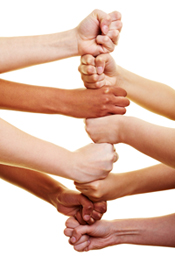 We believe Inclusion and Diversity promotes innovation through different perspectives, insights, ideas and experiences that not only enhance a particular project, but also benefits our own employees through the experiences gained by learning from our diverse peers. This collaborative approach is an extension of our Design Build and team-oriented background and is simply an extension of our work culture.
Our objective is to benefit our community and provide the best product for our clients by continuing our tradition of 'Building Tomorrow Since 1903' with subcontractors that we've teamed with in the past and continuing to expand our network of quality subtrades with new firms into the future.
If you are an MBE/WBE/SBE/DBE firm, please submit information about your firm to info@jdlwarm.com to be included in our bidder list.